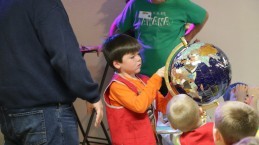 AWANA meets on Wednesday evenings throughout the school year from 6:00pm to 7:45pm.
Registration is open for children ages 3 – 4 through sixth grade. (Cubbies is currently full)
Children learn scripture and play games as they develop relationships with each other and grow in the Lord.
The fees for AWANA are: book $15, uniform $15 and yearly dues $15.
To register your children for our Fountain Campus click here!
For more information on the AWANA program, go to the AWANA Website.
*Awana and the Awana logo are Registered Trademarks of Awana Clubs International. Used by permission.
8th Street Campus Services
9:00 AM  -  10:00 AM
10:30 AM - 11:30 AM
Fountain Campus Services
9:00 AM  -  10:00 AM
10:30 AM - 11:30 AM
Address
Fellowship of the Rockies - 8th Street
1625 South 8th Street
Colorado Springs, Colorado 80905
Address
Fellowship of the Rockies - Fountain
7755 C & S Rd
Fountain, Colorado 80817